1. Business form
Inkjet web-fed MJP IXS/IXW series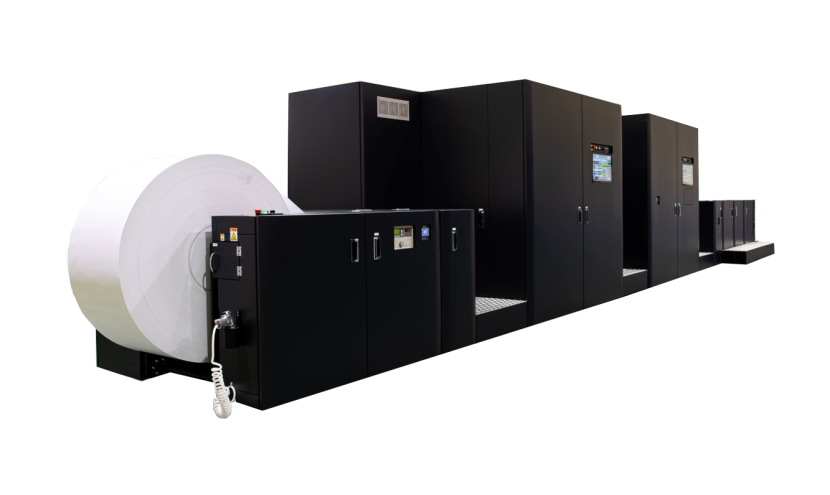 MJP IXS/IXW series are a full-color inkjet web-press equipped with highest-in-class 1200dpi x 1200dpi printhead and high productivity.
Applications
・Magazines
・Transactions
・Direct Mails
・Brochures
・Illustrative text books
・Photographic books and calendars
・Other commercial printing
Advantages
・Full-color printing up to 4C/4C (CMYK) on coated inkjet paper and uncoated inkjet paper.
・Reproducibility of thin lines, small texts and characters.
・Stability in high coverage (ink volume) images and pictures.
・Highly stable print quality backed by Miyakoshi's decades-long experience of paper feeding techniques.
・Customizable with in-line finishing units such as marginal punch, perforation, sheet-cutting, folding etc. which are common in transactional and commercial printing industry.
・Shorter make-ready and less inventory.
・Simple and easy work flow.
Main features
・Lower running cost.
Ink-cost is minimized by using water-based pigment ink as standard in order to flexibly meet different needs from customers.
・Highly accurate paper transport.
Miyakoshi's paper transport technology that comes from long-year experience in business-form press manufacturing enables stable and accurate printing.
Main specifications
Model
MJP20IXS※
MJP30IXS※
Max. printing width
508.0mm
750.0mm
Max paper width
520.7mm
775.0mm
Resolution
1200dpi x 1200dpi
Number of colors
4C / 4C (CMYK) Duplex
Max. printing speed
80m/min.※
Drying system
Hot Air drying system
Media
coated inkjet paper and uncoated inkjet paper