Case Studies
Grupo Lappí eyes further expansion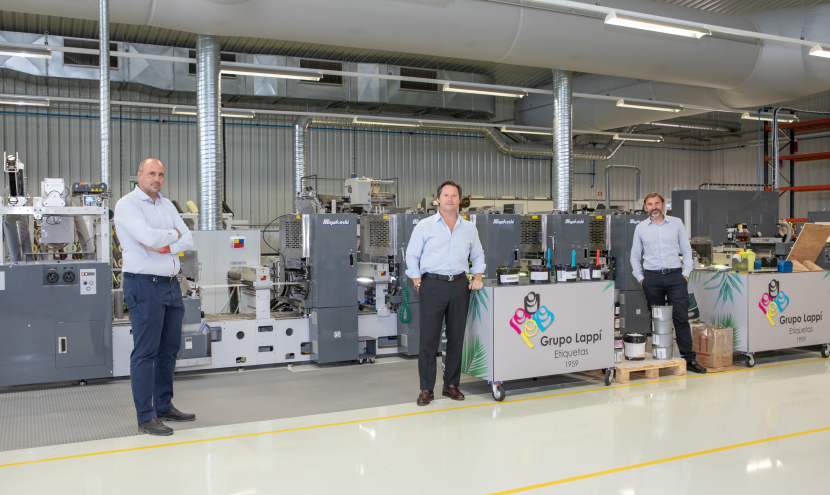 Increasing consolidation among label converters is an established trend, but according to Seville, Spain-headquartered Grupo Lappí, southern Europe is still playing catch-up compared to the north of the continent. With two plants in Spain and now an established production base in neighboring Portugal, the company has set its sights beyond the Iberian Peninsula with ambitious plans for continued expansion.
Its extensive technology portfolio has also been expanded with the addition of semi-rotary offset printing through the installation of a Miyakoshi MLP press.
Founded by current president and CEO Antonio Lappí's father in 1959, the company moved away from its initial focus on commercial printing and into wet-glue label production in the mid-1970s. In 1990, it added self-adhesive labels to its repertoire. Today, the latter make up 40 percent of production, with wet-glue labels at around 48 percent, and the remainder taken by shrink sleeves and wraparound labels. The vast majority of production – 85-90 percent – is for the food and beverage markets, with small amounts sold for cosmetics, pharmaceutical and household cleaning products.
Antonio Lappí, after a stint at Leeds, UK-based label converter Jarvis Porter, joined his father's business in 1998. Since then, the company has ramped up its investment in new technology and significantly expanded its local and international footprint.

Grupo Lappí began its expansion from its headquarters in Seville with the acquisition of Barcelona-based label converter Gràfiques Martorell in 2004, then adding Gràfiques Llopart, also in the Catalan capital, in 2013.
International expansion began in 2019 when Grupo Lappí bought Gráficas Calipolense, the largest printer of labels for the food sector in Portugal. The deal brought with it two plants in the country, one dedicated to self-adhesive label production and one specialized in wet-glue labels.
Fifty-three percent of Lappí's business is generated in Spain and Portugal, with 47 percent from exports. Of the latter figure, 80 percent comes from Europe – particularly Belgium, France, Germany, Holland and the UK; the remainder is export business in South America and Africa.
With the acquisition of Gráficas Calipolense came a client base in Portugal's former African colonies such as Angola, Cape Verde, Mozambique and São Tomé and Príncipe. Lappí also sells labels to Benin, Equatorial Guinea and Morocco. 'Various markets in Africa – Equatorial Guinea, for example – are strong for wet-glue and wraparound labels. Wet-glue for beer labels; wraparound for water labels,' says Antonio Lappí. 'The pressure-sensitive label market is beginning to grow, albeit from a very low base. But the advantage of wet-glue labels remains – they are much more cost-effective.'
This case study is reprinted from the website of Miyakoshi Europe.Click here to continue.